Introduction

[

]
Son Gokū Seiten Taisei, more commonly known as Son Gokū or simply the Four-Tails), is one of the nine tailed beasts. It was last sealed within Rōshi of Iwagakure and with a fraction of its chakra now residing in Monkey D. Luffy.
Personality

[

]
Son Goku is a very prideful tailed beast, as it detests being called by the name "Four-Tails" and boasts about its lineage.
It also hated humans, due to the fact that humans had enslaved it, and believes that apes are more intelligent than humans. However, when talking about the Sage of Six Paths, it showed him great respect, being that also had, apparently, a very deep relationship with him, never forgetting his final words. It also has taken a liking to humans such as Naruto Uzumaki and it's current Jinchuriki, Monkey D. Luffy, as it was moved by the former's actions for truly trying to save it from being controlled by Obito and the latter for befriending and willing to trust it despite its attempt to devour the straw hat pirate. He also treats his fellow tailed beasts with much respect, as he addresses them by their name, as seen with Kurama. Son also has a high respect for those who respect the tailed beasts.
Son also
History (Naruto manga)

[

]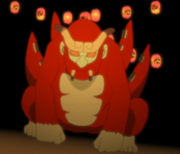 Five Worlds War: Fairy Tail Campaign

[

]
Relationships

[

]
Powers and Abilities

[

]
Trivia

[

]
Son Goku's Japanese VA is Hiroki Yasumoto who also voices Han. Yasutora Sado and Zozain in Bleach, Elfman and Draculos Hyberion in Fairy Tail, Bonam in One Piece, Daigoro Banjo in My Hero Academia.
Son Goku's English VA is John Eric Bentley who also voices Kinkaku