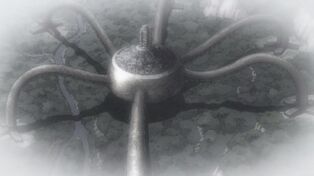 Introduction
Edit
The Nirvana Arc is the 16th arc of the Five Worlds War: Fairy Tail Saga Campaign and the 18th Arc of the Five Worlds War Series.
Plot Summary
Edit
Story Impact
Edit
Yoruichi Shihoin joins to assist and to save Soifon.
Shunsui and Jellal instruct a small team, the Shatter Squad, to infiltrate Nirvana to destroy the Six Lacrima powering up Nirvana's legs:

The 1st Division members that comprise the team are, Ichigo Kurosaki, Nelliel Tu Odelschwank, Ikkaku Madarame, Yumichika Ayasegawa, Sanji, Sakura Haruno, Millianna, Kurotsuchi, Akatsuchi, Cavendish, Vista, and Rocker.
The 5th Division members that comprise the team are, Naruto Uzamaki, Erza Scarlet, Lucy Heartfilia, Bartolomeo, Tsume Inuzuka, Shibi Aburame, Trafalgar Water D. Law, Minerva Orland, Ideo, Basil Hawkins, Emporio Ivankov, and Inazuma.
Ichigo is revealed to still have his Hollow and Quincy powers, regaining them after Yhwach's first death
Tashigi reveals that Naruto Uzumaki has earned 500,000,000 berries with the epithet "Demon Fox"

His bounty is the same as Monkey D. Luffy's after the Dressrosa Saga of One Piece

Ichigo is confronted by his rival Macbeth, who is later revealed to be indoctrinated.
Ichigo faces Macbeth a second time and emerges victorious.
Ultear Mikovich returns in her younger form due to Chitsujo, and joins the Alliance.
Shino Aburame kills Machvise.
Yoruichi faces and defeats Orochimaru.
Kinkaku kills Yumichika Ayasegawa.

An enraged Kenpachi Zaraki defeats the Gold and Silver brothers
Kinkaku, in his own thoughts, reveals Kenpachi is Number 9 on the Coalition Blacklist
Yumichika's Zanpakuto is stolen by the Gold and Silver Brothers

The Shatter Squad succeeds in destroying the six lacrima inside Nirvana

It is revealed that a seventh lacrima was added to Nirvana, and was guarded by Gecko Moria

Ichigo confronts and defeats Moria.
The Nirvana cannon fires into the sky, but is stopped by Chitsujo.
Naruto is struck by Nirvana influence.
Naruto attacks and fights Ichigo in an intense battle, which ends in a draw.
Chapter 142 "Ichigo vs Naruto" is the sixth chapter labeled with "vs" between two characters.
Previous/Next Arc
Edit
Previous Arc: Magnolia Arc_______________________________________________Next Arc: Tenrou Arc Spin-off/Non-canon arc:The Machine Invasion Arc
Community content is available under
CC-BY-SA
unless otherwise noted.