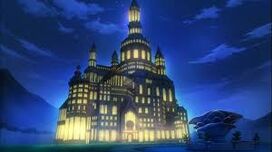 Introduction
Edit
The Mercurius Prison Break Arc is the 9th arc of the Five Worlds War: Fairy Tail Campaign Saga, and the 11th Arc of the Five Worlds War Series. It lasts from Chapter 56-63, it is focused on the breakout attempt of the captured Coalition soldiers, and at the same time a squad of Coalition assassins sent to kill their captured comrades, all orchestrated by Konton. And the Defense and Intelligence Division are caught in the middle.
Plot Summery
Edit
Story Impact
Edit
The Coalition Blacklist is officially revealed
Chapter 62 "Mavis vs Yukio" is the fifth chapter labeled with "vs" between two characters.
Previous/Next Arc
Edit
Previous Arc: Clover Town Arc ____________________________________Next Arc: Second Hargeon Arc
Community content is available under
CC-BY-SA
unless otherwise noted.