Introduction

[

]
Matatabi, more commonly known as the Two-Tails, is one of the nine tailed beasts. It was last sealed within Yugito Nii of the Hidden Cloud Village.
Personality

[

]
History (Naruto Manga)

[

]
Matatabi was created over 1000 years ago by Hagoromo Otsutsuki by dividing the Ten-Tails's chakra.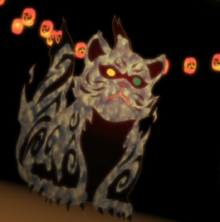 Five Worlds War: Fairy Tail Campaign

[

]
Relationships

[

]
Powers and Abilities

[

]
Trivia

[

]
Matatabi's Japanese VA is Ryoko Shiraishi who also voices Fu. Akibi and Bao Huang in One Piece, Kyōko Haida in Bleach.
Matatabi's English VA is Cristina Vee who also voices Riruka Dokugamine in Bleach, Killua Zoldyck in Hunter X Hunter. Swan In Fairy Tail.