Introduction
[
]
"Shark Cutter" Bastille is a Marine vice admiral who took part in the Summit War of Marineford. He later appeared in Dressrosaunder the command of Admiral Fujitora.
Personality
[
]
History (One Piece manga)
[
]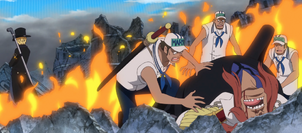 Five Worlds War: Fairy Tail Campaign
[
]
Relationships
[
]
Powers and Abilities
[
]
Weapon
[
]
Shark-Cutting Cleaver
Haki
[
]
Armament Haki
Trivia
[
]
Bastille's Japanese VA is Tsuyoshi Koyama who also voices Hajrudin, Charlotte Counter, Raideen and Holdem. Izunabi in Hunter X Hunter.
Bastille's English VA is Christopher Wehkamp who also voices Gotan, Inazuma (Male), Lip Doughty. Solid Silva in Black Clover, Mest Gryder and Ren Akatsuki in Fairy Tail, Shota Aizawa in My Hero Academia.