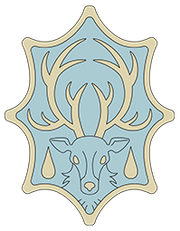 Background

[

]
Azure Deer is one of the nine squads of the Clover Kingdom's Magic Knights. In the past, under Julius Novachrono's captaincy, the squad was known as Grey Deer. After Rill Boismortier became Captain, he changed the squad's name from the Grey Deer to the Aqua Deer.
Leadership

[

]
Like the other Magic Knight Squads, they follow orders from the Wizard King.
Azure Deer is led by a Captain with authority over the members of the squad. The squad is an easygoing bunch with a friendly captain who loves to paint.
Strength

[

]
While the members of Azure Deer are fairly strong and skilled in their own right, it is their captain Rill Boismortier whose great magic powers and an extremely versatile Painting Magic allowed him to quickly climb the ranks at the age of 19 that stands him out the most. Rill, Fragil and Cob Portaport were selected to be part of the Royal Knights.
Back when it was Grey Deer, it was led by Captain Julius Novachrono before he rose up to become the 28th Wizard King. Yami Sukehiro, Nacht and William Vangeance were members of Gray Deer before they were promoted to Captain and Vice-Captain of the Black Bull and Captain of the Golden Dawn respectively.
List of Members

[

]
Former Members

[

]